Cooking Class Program
Traditional Market Tour (**Morning Class Only**)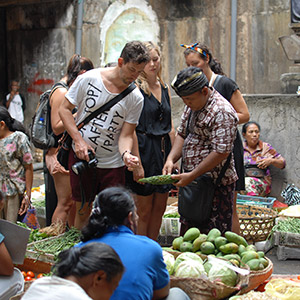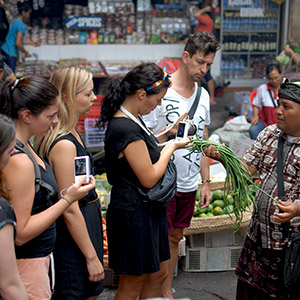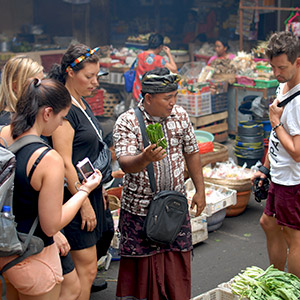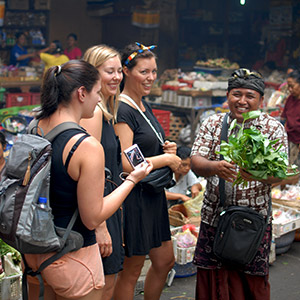 Morning class starts with a trip to a local market. In Bali Markets open early, The food markets are a great way to introduce students to Bali culture and lifestyle. The Chef will explain about Balinese tastes and customs, local meat, fish, and produce, finding unique ingredients and, of course Balinese-style bargaining! Learn the secrets of buying fresh ingredients in a traditional, – what to select and what to reject. Touring a traditional outdoor market provides insight both into how Balinese people approach cooking and how many spend their day. These lessons are as important as those in the kitchen.
"Hand On" Cooking experience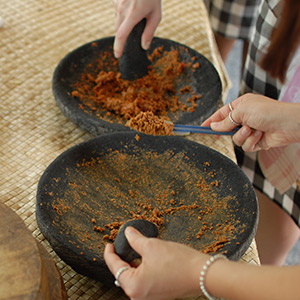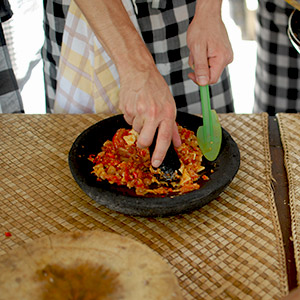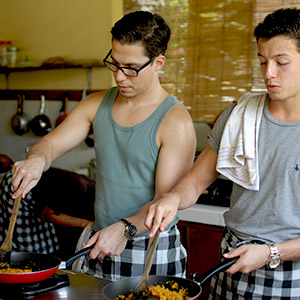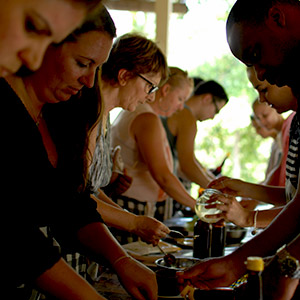 The Balinese Cooking Class that we offer are completely hands on and conducted in English, students will be provided their own cooking station and utensils to prepare and cook all of dishes by themselves. The class is limited to a maximum of ten participants per class to ensure individual attention for everyone.
The teacher and his assistant with an extensive knowledge of Balinese ingredients and cooking methods will demonstrate How to cook all of dishes and let the students taste what they had prepared for lunch or dinner and also take away pack if you cannot finish it. Explore the menu here
If you have any allergies or you are vegetarian then please just email us prior to the class (there is also a form you can fill out when making your booking) and we will adjust your menu accordingly. You can email us at info@ketutsbalicookingclass.com
Rate
IDR 350.000/Participant
Time and location
Morning Class Start at 08.30 - 13.00
Afternoon Class Start 15.00 – 19.30
| Area | Morning | Afternoon |
| --- | --- | --- |
| Nusa Dua | 06.30 - 07.00 | 13.00- 13.30 |
| Kuta | 06.30 - 07.00 | 13.00- 13.30 |
| Sanur | 07.00 - 07.30 | 13.30- 14.00 |
| Ubud | 08.00 - 08.30 | 14.30- 15.00 |
As our school is located Jalan Raya Laplapan Ubud Bali, we provide a free pick up and drop off service at Ubud Area
If you are late, then unfortunately you will have to miss the market tour and we will do all possible to pick you up afterwards and before the class commences. Our drop off time is around 1 pm.